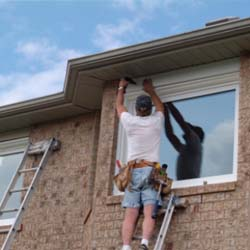 "HIGH QUALITY WINDOWS AT GREAT PRICES!" - PLUS CUT YOUR ENERGY BILLS BY 46% Call 919-623-9934 to learn more!
Replacement Windows Tips
Improve Home Value with Replacement Windows
Making even small changes to your home can not only enhance the look of your home but also give you some substantial return on investment. While windows are rarely considered as major decorative items, a Masterpiece Windows Company can help you replace your old windows and drastically improve a room's appearance.
As a home ages, the windows age right along with it. Over time, the caulking shrinks, causing the window panes to become loose and drafty. Some older windows may also have separate storm windows and screens that need to be switched with the changing seasons. If you're dealing with any of these problems a professional Masterpiece Windows Company installer will remove the old windows and replace them with newer, more attractive and energy efficient windows.
A skilled Masterpiece Windows Company contractor can remove the entire window, frame and all. The replacement window will be fit snugly into the existing opening. Or if you choose a different style or size of window the Masterpiece Windows Company installer will prepare the opening and install the new window so it looks like it has always been a part of your home.
There are different types of replacement windows that the Masterpiece Windows Company can install to add curb appeal and real value to your home. Replacement windows are usually made up of a vinyl clad frame and insulated glass. Wood replacement windows are also available but they are a more expensive option. Aluminum windows have mostly become antiquated now. New windows can decrease cooling and heating bills and increase the safety of your home as they lock and close better than many of the older style windows.
---
Types of Replacement Windows
Traditional windows are usually double-hung. They have two panels and a locking mechanism in between the panels. The bottom panel can slide up to reveal a screen. There are also casement replacement windows which your Masterpiece Windows Company installer can install for you. These have a crank at the bottom that allows the window to open. You open the window by turning the crank and the window opens outwards. Usually, a Masterpiece Windows Company contractor will install casement windows that are one solid pane of glass or with small panes of glass divided by metal or wood frame sections.
Awning windows are also another choice available from your Masterpiece Windows Company. They are just like casement windows, but the window hinges on the top instead of on the side. This allows for a great advantage of having the window open even during a rainstorm, if you prefer. The glass shelters the screen and the inside of the house from getting wet. There are also sliding replacement windows that are placed on the tracks in the windowsill. These are sets of two window panes placed side by side, that can simple be pushed sideways to open.
You might also consider replacing smaller windows with larger ones. A professional Masterpiece Windows Company will install bigger windows for you which will bring more light into the room and reduce the need to use lamps or overhead lighting during the day. This means lower energy bills in addition to the obvious benefit of decreasing drafts in the room.
No matter what type of replacement windows you choose, a skilled Masterpiece Windows Company can install them quickly and efficiently. Your new windows will add almost instant value to your home. Plus, the cost of replacement windows are often compensated by the substantial savings in utility bills and maintenance costs.
---
Benefits of Replacement Masterpiece Windows Company
When the Masterpiece Windows Company installer replaces the windows in your home, not only does the visual appeal increase, but it also brings with it certain additional benefits. Lower utility bills and decreased maintenance costs over time compensate for the cost of replacing the windows. You'll also notice some immediate benefits right after the Masterpiece Windows Company installer puts your new windows in. Old windows are often hard to open, hard to close and if they are open, it may not stay open. A new window opens smoothly, with little or no exertion. Old windows also need to be scraped, need new putty and repainted. A replacement window usually has vinyl frames, which means no more painting and repainting.
When windows are replaced they also provide greater insulation. A Masterpiece Windows Company will replace your traditional single glazed windows with the double glazed windows that provide better insulation and are also draught-free. This reduces the amount of heat that can escape and you cut down on heating costs without compromising on comfort. Some windows also use a special plastic film that is suspended in between the two layers of glass in the double glazed window, to achieve a triple-pane effect which means more efficiency at lower costs.
Security is a bonus that comes along with replacing windows. The double glazed windows installed by the Masterpiece Windows Company also have a host of security features, including special locks to outwit burglars.
Replacement windows also reduce noise from passing traffic. It makes your home quieter and more peaceful. When a Masterpiece Windows Company replaces your old wood framed windows with new vinyl clad replacement windows, maintenance is reduced to the minimum. Instead of the constant maintenance that wood demands, these windows need just an occasional wipe down with a damp cloth.
---
Masterpiece Windows Company for a Better Home
Better quality windows will help you increase the overall area of the window, making the home appear lighter and more open. Your local Masterpiece Windows Company can also add special touches like windows with stained glass accents or curved glass to make the room look extra special. Some windows come with ultraviolet protection which means that rugs, drapes and other upholstery become less susceptible to fading. While frosted replacement windows increase the privacy of your room, there are even windows that go from clear to frosted at the mere flick of a switch.
Replacing old, energy-wasting and maintenance-intensive windows simply makes good sense. Call a professional Masterpiece Windows Company installer to replace your window and add to the beauty and value of your home.
---
---