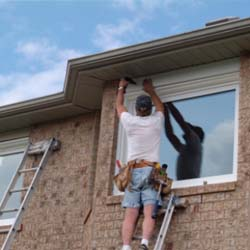 "HIGH QUALITY WINDOWS AT GREAT PRICES!" - PLUS CUT YOUR ENERGY BILLS BY 46% Call 919-623-9934 to learn more!
Types of Windows
Our Reflections® 5500 premium vinyl replacement windows and doors provide a wide variety of options to ensure that you can find the perfect custom styling solution for your home. With industry- leading energy efficiency, weather resistance and quality, they provide unsurpassed reliability over the long haul. And to top it off, each Reflections 5500 window is custom built specifically for your home, delivered quickly and backed by our Double-Lifetime Limited Warranty.
PICTURE

Picture windows are the most energy- efficient style available and are fixed – with no movable sash. Choose this style when you want to illuminate a room or provide an unobstructed view.

Use alone or in conjunction with other styles
Combine with a Double Hung or Casement for ventilation while adding character to your home

AWNING

A top-hinged window, also called an Awning, swings outward for ventilation. Create a striking look by using multiple Awnings in both vertical and horizontal mulled configurations.

Create a contemporary wall of light with a multi-unit Awning design
Streamlined crank handle easily opens and closes Awning windows
Corrosion-resistant* hardware provides a lifetime of smooth operation.

DOUBLE HUNG

For a timeless look, choose the Double Hung, which is popular in Victorian, Craftsman and Colonial architecture. Both sash on Double Hung windows slide up and down vertically.

The exclusive Simonton Sill® is triple-stepped and sloped to move water quickly away from your home and to help prevent air infiltration
Tilt-in/lift-out sash makes cleaning easy from the inside
The easy-glide sash and balance system allow the sash to raise and lower with ease
Simonton's patented Lap-Lok® meeting rail helps provide a tight seal for protection against the elements and increased energy efficiency
Unique Denny ClipTM pivot system keeps sash in perfect alignment for easy operation

SLIDER

Slider windows glide horizontally from side to side. Available in a 2- or 3-lite configuration, 3-lite Sliders have operable end vents. They are perfect for replacing large Picture windows to gain ventilation.

Corrosion-resistant* rollers and roller track provide a lifetime of easy operation
Interlocking meeting stiles create a tight seal against the elements
Lift-out sash can be removed for easy cleaning and maintenance

CASEMENT

The Casement features a hinged sash that opens outward. If you are looking for optimum ventilation and a wide-open view, the Casement is the perfect choice. Casements are the second most energy-efficient style available for your home.

Casements crank outward for maximum ventilation and easy cleaning
Optional folding crank handle allows for easy and convenient operation
Advanced locking system secures sash at multiple points with one, easy-to-use handle

GEOMETRIC

Customize the look of your home with a stunning Geometric window. The dramatic options provide a contemporary look that will enhance any home.

Select from a variety of optional grid patterns to create a unique look
Available styles in Half-round, Quarter-round, Eyebrow, Circle, Octagon, Trapezoid, Pentagon and Hexagon

GARDEN

A Garden Window can bring a little bit of the outdoors in year-round.

Two side windows can be opened or closed with the simple turn of a crank
Seat boards are available in white pine laminate or wood veneer in either oak or birch and can be painted or stained
Top-sloping insulating glass unit tempered for breakage resistance
Sill cover resists water penetration
Multi-point, single-lever locking system for added security
Corrosion-resistant* hardware provides a lifetime of smooth operation.

BOW

A Bow window features windows mulled at 10-degree angles, which creates a rounded, more circular appearance than a bay.

Bow windows feature 3- , 4- or 5-unit designs
Equal-sized Double Hung or Casement windows can be used to create a Bow window with excellent ventilation
Ideal for large window openings
Head and seat boards in oak or birch veneer can be painted or stained to match the interior of your home

BAY

Open up your home and bring the outside in with the addition of a Bay window. The dramatic look of a Bay creates a special nook and adds dimension to any room.

Bay windows feature either Double Hung or Casement windows on each side of a center Picture window
Available in either 30- or 45-degree angles
Ideal for larger openings
Head and seat boards in oak or birch veneer can be painted or stained to match the interior of your home
Insulated head and seat boards provide increased thermal efficiency

*Corrosion-resistant refers to use in normal weather conditions without excess salt and debris in the atmosphere. Corrosion of rollers may occur in costal applications or in areas with extreme fluctuations in weather patterns.